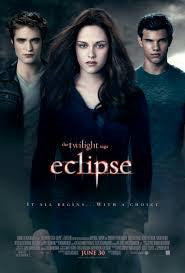 Twilight Saga Eclipse Movie 2010 Used Treasure Hunt! DVD UPC807773019518
Twilight Saga Eclipse Movie 2010 Used Treasure Hunt! DVD
In the third installment of Twilight Bella finds herself in danger once again when Seattle is ravaged by mysterious killings as a renegade vampire tries to quench her thirst for revenge. Meanwhile she must choose between her love for Edward and a friendship with Jacob -- she must remember that her decision has the potential to ignite a deadly war between vampires and werewolves. This installment also touches on her most important decision yet, with the approach of her Graduation.
Dakota Fanning, Sarah Clarke, Kellan Lutz, Rana Morrison, Chaske Spencer, Iris Quinn, Elizabeth Reaser, Taylor Lautner, Leah Gibson, Peter Facinelli, Byron Chief-Moon, Kristen Stewart, Bryce Dallas Howard, Dawn Chubai, Paul Jarrett, Christian Serratos, Ashley Greene, Jack Huston, Billy Burke, Daniel Cudmore, Cameron Bright, Peter Murphy, Nikki Reed, BooBoo Stewart, Robert Pattinson, Cainan Wiebe, Catalina Sandino Moreno, Monique Ganderton, Gil Birmingham, Kirsten Prout, Jackson Rathbone, Tinsel Korey, Michael Welch, Justin Chon, Julia Jones, Anna Kendrick, Jodelle Ferland, Alex Rice
124 minutes
USA
Includes used dvd and cardboard dvd case, photo used is for display purposes only.
UPC807773019518
Stock photo used.
---
We Also Recommend