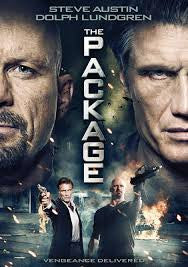 The Package Movie 2012 Used DVD
The Package Movie 2012 Used DVD
All Tommy Wick has to do is deliver a "Package" to a rival crime lord, nicknamed 'The German'. It seems like a routine job, until another gang tries to hijack the precious cargo and Tommy has to fight every inch of the way to deliver it safely. The problem is, the "Package" isn't what Tommy was led to believe, and now he's in even deeper than he ever thought possible.
Michael Daingerfield, Mike Dopud, Lochlyn Munro, Kristen Kerr, Patrick Sabongui, Jerry Trimble, Monique Ganderton, Steve Austin, Dolph Lundgren, Darren Shahlavi, Eric Keenleyside
USA
Rated R
Includes used dvd and generic plastic dvd case, photo used is for display purposes only.
---
We Also Recommend