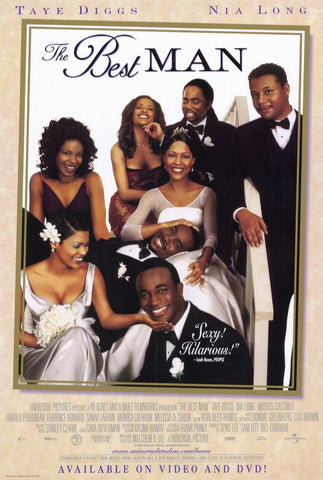 The Best Man 1999 Movie Poster 27x40 Used Taye Diggs, Nia Long
The Best Man 1999 Movie Poster 27x40 Used Taye Diggs, Nia Long
Morris Chestnut Harper's autobiographical novel is almost out, his girlfriend Robin desires commitment, and he's best man at the wedding of Lance, a pro athlete. He goes to New York early (Robin will come for the wedding) to hang out with Lance and other friends, including Jordan, his former almost-lover, now in media and privy to an advance copy of the book. The men discuss women, never facing their own double standard; Jordan wants to try again with Harper, at least for one night; and Harper fears that Lance will read his book and learn that the bride-to-be slept with him once to avenge Lance's many affairs. Can Harper mature before Lance kills him, Jordan seduces him, and he loses Robin?
Director: Malcolm D. Lee
Used: Studio or manufacturer original not a reprint. Used in great condition, as with any used poster they were displayed previously in a movie theater, video store or in a private collection so they may have minor imperfections or minor rips. All our posters are stored rolled and never creased and are shipped in plain white or brown poster mailers. Frame is not included.
---
We Also Recommend