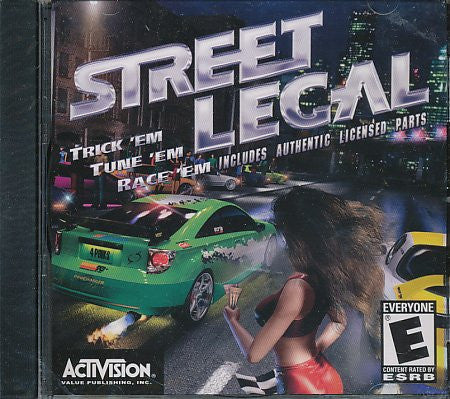 Street Legal PC Game By Activision Value Publishing Used 2002
Gently used in good working condition.
Platform: WINDOWS 98/ME/2000/XP Publisher: ACTIVISION VALUE PUBLISHING Packaging: JEWEL CASE Rating: EVERYONE Customize and upgrade your vehicle to be the ultimate racing machine with authentic licensed parts. Street Legal takes it all to the next level! Whether you're into "trick'n" "tune'n" or "drag'n" this game is a must have! Start out with an ordinary street car and turn it into an extraordinary RACING MACHINE!! You'll be racing for cash so keep the pedal to the metal because the STREET ACTION doesn't get any HOTTER than this!Features: 16 cars to "trick-out" and "tune-up" in a variety of garages. 4 club levels from easy to difficult for a variety of challenges. Dynamic race path generator for ultimate street action and extended game play! Don't get snagged by the cops...you could lose it all!!! System Requirements for Windows Windows 98/2000/ME/XP Pentium II 600 Mhz (Pentium III 1 Ghz recommended) 128 MB RAM (256 recommended) DirectX 8.1 (included) DirectX 8.1 compatible graphics card w/16 MB video memory (32 MB recommended) 4X CD-ROM (8X recommended) DirectX 8.1 compatible mouse and keyboard 700 MB free hard disk space
Manufactured in 2002.
---
We Also Recommend