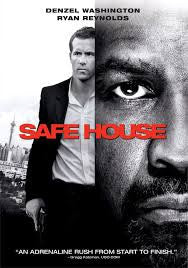 Safe House 2012 Movie DVD Used Denzel Washington UPC025192104404
Safe House 2012 Movie DVD Used
Matt Weston ('Ryan Reynolds' ) is a CIA rookie who is manning a safe house in Cape Town, South Africa, when Tobin Frost (Denzel Washington) the CIA's most wanted rogue agent is captured and taken to the safe house. During Frost's interrogation, the safe house is overtaken by mercenaries who want Frost. Weston and Frost escape and must stay out of the gunmen's sight until they can get to another safe house.
Genres Action, Crime, Mystery, Thriller
Released Feb 02 2012
Duration 115 minutes
Produced In South Africa USA
Directed By Daniel Espinosa
Starring Robert Hobbs, Ryan Reynolds, Robert Patrick, Vera Farmiga, Ruben Blades, Stephen Bishop, Denzel Washington, Joel Kinnaman, Fares Fares, Nicole Sherwin, Sam Shepard, Brendan Gleeson, Tracie Thoms, Sebastian Roche, Jerry Mofokeng, Liam Cunningham
UPC025192104404
Includes used dvd and original manufacturers plastic dvd case with artwork.
---
We Also Recommend