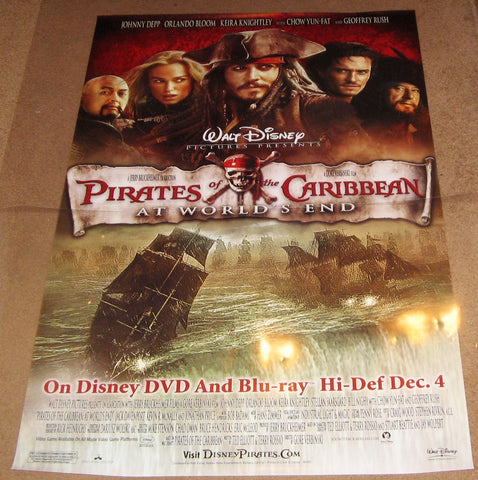 Pirates Of The Caribbean At Worlds End 2007 Movie Poster 27x40 Used Disney Johnny Depp, Orlando Bloom, Yun-Fat Chow,
Pirates Of The Caribbean At Worlds End Movie Poster 27x40 Used
Captain Barbossa, Will Turner and Elizabeth Swann must sail off the edge of the map, navigate treachery and betrayal, and make their final alliances for one last decisive battle.
Genres Action, Adventure, Fantasy
Released May 19 2007
Duration 169 minutes
Produced In USA
Directed By Gore Verbinski
Starring Naomie Harris, Kimo Keoke, Jack Davenport, Keira Knightley, Bill Nighy, Matthew Wolf, Kaleti Williams, JB Blanc, Chris M Allport, Lee Arenberg, Dominic Scott Kay, Sergio Calderón, Gary Sievers, Martin Klebba, Peter Donald Badalamenti II, Maggie Munro, Keith Richards, Henry T Yamada, Jonathan Linsley, David Meunier, Takayo Fischer, Geoffrey Rush, Walter Medina, Johnny Depp, Mark Casimir Dyniewicz, Christopher Adamson, Randy Herman, David Bailie, Roberto Santana, Orlando Bloom, Winston Ellis, Yun-Fat Chow, James Lancaster, Jonathan Pryce, Marshall Manesh, David Schofield, Greg Ellis, Rick Mali, Hash Patel, Hakeem Kae-Kazim, Kevin McNally, Marcel Iures, Ned Wertimer, Jimmy Hsu, Mackenzie Crook, Vanessa Branch, Tom Hollander, Stellan Skarsgård, Eric Shackelford, Omid Djalili, Aesop Aquarian, Mobin Khan, Angus Barnett, Dermot Keaney, Mark Hildreth, Ho-Kwan Tse, Reggie Lee
Used: Studio or manufacturer original not a reprint. Used in great condition, as with any used poster they were displayed previously in a movie theater, video store or in a private collection so they may have minor imperfections or minor rips. All our posters are stored rolled and never creased and are shipped in plain white or brown poster mailers. Frame is not included.
---
We Also Recommend