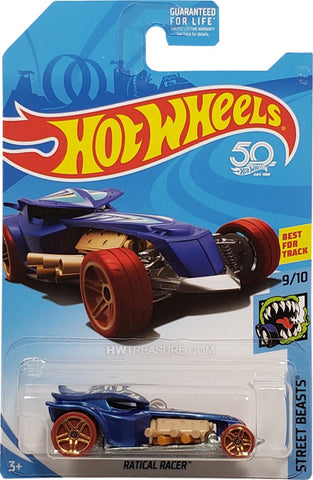 New 2018 Hot Wheels Ratical Racer Treasure Hunt Car
New 2018 Hot Wheels Ratical Racer Treasure Hunt Car
1:64 scale
Diecast cars
FKB33 is a 2018 Treasure Hunt and 9/10 in the Street Beastsseries. It is blue with tan spiked graphics on the roof and hood. The Hot Wheels logo and the low production symbolare also on the roof. The car has a tan interior & engine, reddish-brown PR5 wheels with gold trim, and an unpainted metal Malaysia base.
This vehicle can be found in mix "N" of 2018 Hot Wheels mainline cases.
Ratical Racer made its debut in the 2013 HW Imagination – Street Pests series. It is an original design that was previously named Bad Ratitude.
The picture used for this item is a stock photo, this item is new and still in the package but the card was damaged in shipping, the blister and the card are undamaged.
---
We Also Recommend