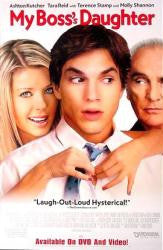 My Boss's Daughter 2003 Movie Poster 27x40 MCP0023 Used Tara Reid, Ashton Kutcher, Carmen Electra,
My Boss's Daughter Movie Poster 27x40 MCP0023
When a young man agrees to housesit for his boss, he thinks it'll be the perfect opportunity to get close to the woman he desperately has a crush on...
Genres Comedy, Romance
Released Aug 22 2003
Duration 86 minutes
Produced In USA
Directed By David Zucker
Starring Dan Joffre, Jeffrey Tambor, Henry Mah, Michael Madsen, Angela Little, Tim Henry, Jon Abrahams, Patrick Cranshaw, Dave Foley, Tyler Labine, Tara Reid, Mark McConchie, Ashton Kutcher, Carmen Electra, Andy Richter, Carmen Aguirre, Kenan Thompson, David Koechner, Jim Byrnes, Susan Breslau, Marcy Goldberg, Charlotte Zucker, Terence Stamp, Ever Carradine, Betty Linde, Ron Selmour, Molly Shannon, Link Baker
Used: Studio or manufacturer original not a reprint. Used in great condition, as with any used poster they were displayed previously in a movie theater, video store or in a private collection so they may have minor imperfections or minor rips. All our posters are stored rolled and never creased and are shipped in plain white or brown poster mailers. Frame is not included.
---
We Also Recommend