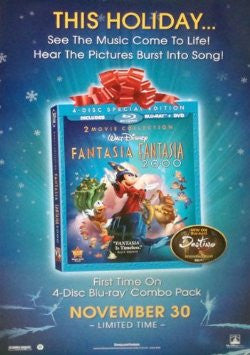 Fantasia 2000 Special Edition Movie Poster 27x40 Used Disney
Fantasia 2000 Special Edition Movie Poster 27x40 Used Disney
An update of the original film with new interpretations of great works of classical music.
Genres Animation, Family, Fantasy, Music
Released Dec 17 1999
Duration 74 minutes
Produced In USA
Directed By James Algar
Starring Quincy Jones, Bette Midler, Tony Anselmo, Russi Taylor, Teller, Deems Taylor, Wayne Allwine, James Earl Jones, Penn Jillette, Angela Lansbury, Steve Martin, Itzhak Perlman, Kathleen Battle

Used: Studio or manufacturer original not a reprint. Used in great condition, as with any used poster they were displayed previously in a movie theater, video store or in a private collection so they may have minor imperfections or minor rips. All our posters are stored rolled and never creased and are shipped in plain white or brown poster mailers. Frame is not included.
---
We Also Recommend