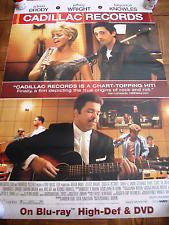 Cadillac Records 2008 Movie Poster 27x40 Used Elvis Presley, Mos Def,
Cadillac Records 2008 Movie Poster 27x40 Used
In this tale of sex, violence, race, and rock and roll in 1950s Chicago, "Cadillac Records" follows the exciting but turbulent lives of some of America's musical legends, including Muddy Waters, Leonard Chess, Little Walter, Howlin' Wolf, Etta James and Chuck Berry.
Genres Drama, Romance, Musical
Released Dec 05 2008
Duration 109 minutes
Produced In USA
Directed By Darnell Martin
Starring Gabrielle Union, Evan Hart, Jill Flint, Tony Bentley, Shiloh Fernandez, Emmanuelle Chriqui, Jeffrey Wright, John Farrer, Albert Jones, William Hill, Chyna Layne, Anthony Del Negro, Derrick Simmons, Adrien Brody, Mos Def, Tammy Blanchard, Beyonce Knowles, Columbus Short, Norman Reedus, Cedric the Entertainer, Kevin Jackson, Wade Mylius, Eamonn Walker, Q-Tip, Gano Grills, Jay O Sanders, Isiah Whitlock Jr, Vincent D'Onofrio, Ginnie Randall, Douglas Crosby, Mike Hodge, Eric Bogosian, Elvis Presley
Used: Studio or manufacturer original not a reprint. Used in great condition, as with any used poster they were displayed previously in a movie theater, video store or in a private collection so they may have minor imperfections or minor rips. All our posters are stored rolled and never creased and are shipped in plain white or brown poster mailers. Frame is not included.
---
We Also Recommend