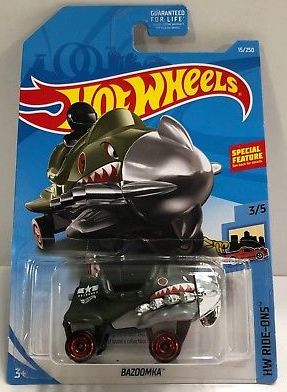 New 2019 Hot Wheels Bazoomka Treasure Hunt HW Ride Ons Series Car
New 2019 Hot Wheels Bazoomka Treasure Hunt HW Ride Ons Series Car
1:64 scale
Diecast cars
FYG00 is 15/250 in the mainline set, 3/5 in the HW Ride-Ons, and a 2019 Treasure Hunt. The car is dark green and gray with a chrome propeller.
Eyes with a red & white toothy mouth decorate the front along with the low production symbol. "Bazoomka", the Hot Wheels logo, and a white star & stripe detail the back. The car has black wheels with red rims and a black plastic Malaysia base.
This vehicle can be found in mix "A" of 2019 Hot Wheels mainline cases.
The Bazoomka made its debut in the 2018 HW Fun Parkseries. It is an original design of an airplane-themed vehicle with an open cockpit and a propeller.
All vehicles will be new with good-mint cards and blisters.
---
We Also Recommend