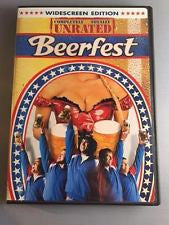 Beerfest Widescreen Edition Completely Totally Unrated Movie 2006 Used DVD UPC085391102076 Willie Nelson
Beerfest Widescreen Edition Completely Totally Unrated Movie 2006 Used DVD
Two brothers travel to Germany for Oktoberfest, only to stumble upon secret, centuries-old competition described as a "Fight Club" with beer games.
Genres Comedy
Released Aug 25 2006
Duration 110 minutes
Produced In USA Australia
Directed By Jay Chandrasekhar
Starring Misha Bugaev, Philippe Brenninkmeyer, Robert Douglas Washington, James Grace, Scott Flick, Pab Schwendimann, William E Marshall, Michael Yurchak, Jürgen Prochnow, Ben Zeller, Steven Michael Quezada, Kevin Heffernan, Jay Chandrasekhar, Simona Fusco, Ralf Moeller, MC Gainey, Paul Edney, Erik Stolhanske, Will Forte, Maria Zambrana, Mo'Nique, Steve Lemme, Paul Soter, Donald Sutherland, James Roday, Audrey Marie Anderson, Jessica Williams, Blanchard Ryan, Chauntal Lewis, Eric Christian Olsen, Brent Lambert, Ivan Brutsche, Dave Colon, Hugh Elliot, Owain Yeoman, Allan Graf, Aaron Hendry, Bjorn Johnson, Chris Moss, Arron Shiver, James Blackburn, Amber Hay, Nat Faxon, Z Ray Wakeman, Willie Nelson, Meriah Nelson, Cloris Leachman
Includes used dvd and original manufacturers plastic dvd case with artwork.
UPC085391102076
Stock photo used. Item may differ slightly from picture.
---
We Also Recommend